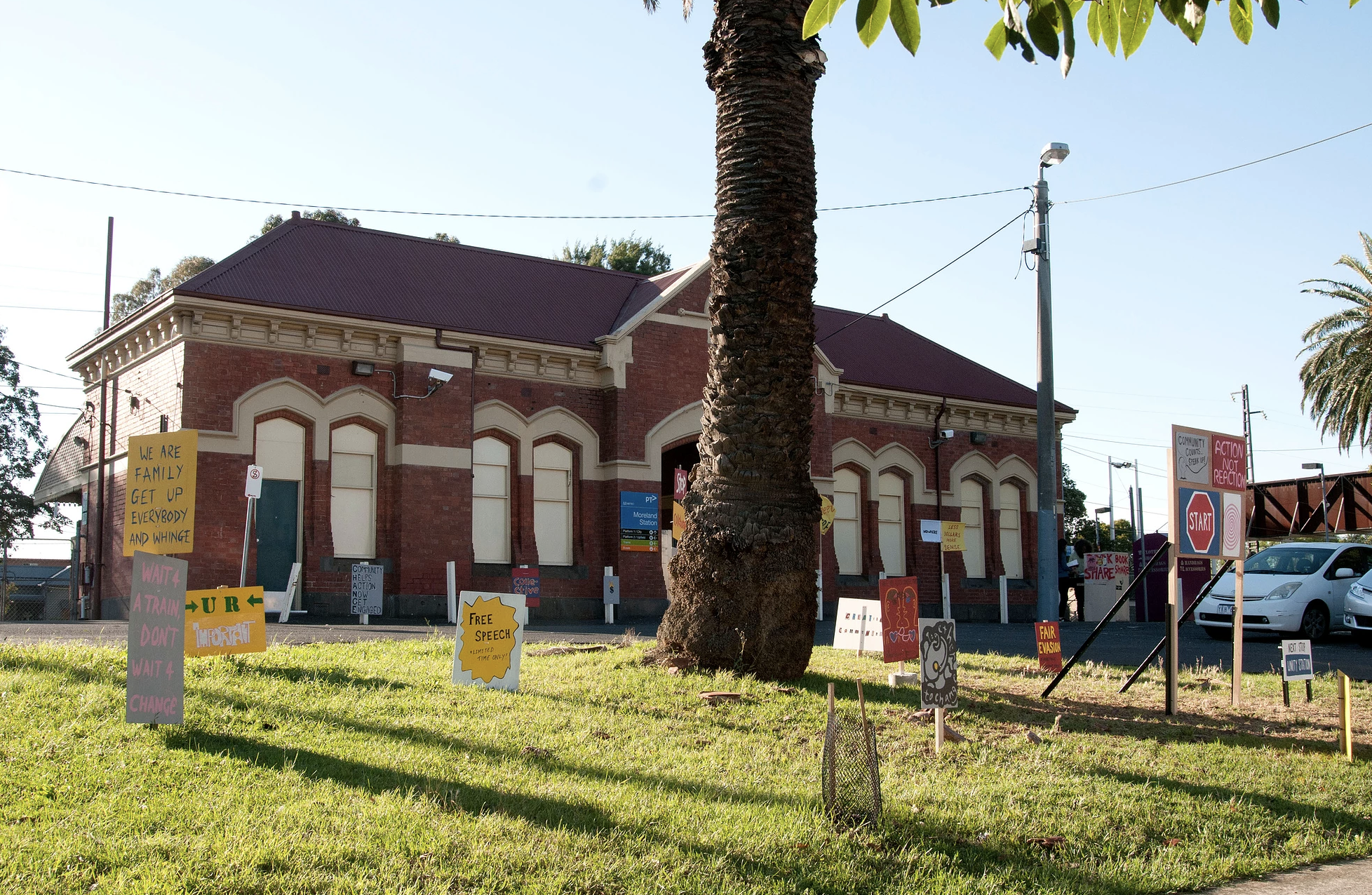 Collective Care

A public participatory project commission by More Art Public Art Festival

Led and facilitated by Hannan Jones and Kate Davis

Across the Coburg Courthouse, Noel Counihan Speakers Stand, Siteworks and Brunswick Mechanics Institute
Text by Amie Anderson

Collective Care is a public art project that offers relief from the onslaught of headlines, and invites participants to release the woes of the digital world. Through discussion, meditation, craft, performance and protest Collective Care highlights the intersections between self-care, personal agency and collaborative action.

Collective Care could be viewed as 'public art' when we look at its physical outcome in the form of publicly placed banners and placards - inciting positive action and unification of the people, in the face of the many pressing issues today. Issues which bring about segregation, isolation and feelings of either apathy or frustration.

However, this public presence emerged from a space of intimate and private exchanges with small groups of participants in local community spaces. This space was important as it allowed for a kind of cathartic release in the form of sharing ideas, feelings and experiences around how participants engage with the world.

The act of writing down these feelings, creating one's own personal flags or banners, was therapeutic as it provided the opportunity to transform negative feelings or frustrations into visual positive slogans or personal mantras for change.


Brunswick is the perfect place for such workshops and banners to be placed as the history of Brunswic itself is one of strong community, protest and social awareness. Today the Socialist Alliance has a branch in Brunswick, along with many other grass roots collectives and there is a genuine feeling of community. The march that took place on Sydney road against violence and the overcoming of fear, in the wake of the Jill Meagher rape and murder is a great example of the Brunswick community coming together.

In a performative gesture, the Collective Care participants marched and chanted along Sydney road, their handmade banners in the air, treading the paths that activists and artists like Noel Counihan had occupied many years earlier performing his own protest for the controversial 1933 free speech campaign.

These signs are now static and silent fixtures outside the Moreland City Council and the Moreland railway station. Their very lack of action points towards a simmering potential for human action, for voices, movement and change. They almost feel like the leftover artefacts of utopian 60s protest movements, which can be brought back to life at any time by the spirit of 'coming together'.