Information & About
Hannan Jones
FKA Hannan Bouchemla
b. Whadjuk boodja / Perth, Australia
She/Her
Hannan works with sound, installation and moving image. Recently she has expanded her practice and has anchored herself in themes of identity, hybridity and world-building. Paying closer attention to an autoenthnographic focus, Hannan is exploring origin, position and migration.
'New Horizons' is her most recent body of work in progress. This is a research led and process based project, readings and research are frequently updated
here.
Hannan is an autodidatic musician, her passion for music, sound and experimental recordings weave into her practice. Working with sampling techniques, electronic equipment, music concrete and analogue recordings. Hannan's processes are inspired by experimental pioneers such as Nicolas Collins, BBC Radiophonic Workshop and Éliane Radigue.
As part of 'New Horizons', she draws apon multiple facets of her practice culminating in an indepth exploration of personal and collective histories through various mediums.
Hannan is currently programming films with Dardishi, a community-focused zine and arts Festival that showcases Arab and North African womxn's contributions to contemporary art and culture.
She is living between Glasgow and Margate where she is an Open School East Associate 2020-21.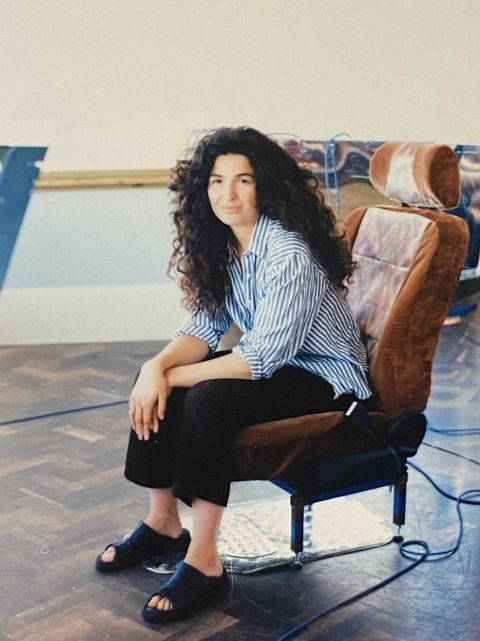 Photo: Hicham Gardaf
'I am an interdisciplinary artist, my practice engages with topics of hybridity, language and rhythm, in response to cultural and social migration.

I use installation, sound, moving image and programming to enable space to explore these themes. In an attempt to expand our perspectives and reflect ourselves in our surroundings; to find moments for 'togetherness', if only temporary.

Projects that I have led, facilitated and created include the retracing of free speech movements, celebrating non-verbal language in club environments, founding and running a public-facing gallery and open studio in a shopping centre, programming public screenings in the pursuit of finding cross-over in narratives and archival materials between invited artists and organisations, and bus tours exploring alternative histories in personal recollections.

In reclaiming my practice I am looking inwards at origins; migrational experiences and how this can be reflected in personal and collective moments. In turn, I am interested how this can transform community, present alternative narratives and open up parallel histories. Using archives and memory to reimagine possibilities. I am driven by research and concepts around world-building, hybridity and psychogeography.'


To request an extensive portfolio or any enquires, say hello.
hannanjones@gmail.com
EDUCATION
2020 - 2021
OPEN SCHOOL EAST,
Associates Programme
2012 - 2016
GLASGOW SCHOOL OF ART,
BA (HONS) FINE ART in Sculpture and Environmental Art
SOLO AND DUO EXHIBITIONS
2016
I OPEN SOMETIME
[with Rachael Simpson] Gallery Unit, Glasgow International
2014
Beyond Bridges
/ Online
SELECTED EXHIBITIONS AND PERFORMANCES
2021
How to Lift Heavy
, Nayland Rock Hotel supported by Margate Now / Margate
2020
Pop Mutations
, Audio Visual Collaboration with Murray Collier / Online
2019
No Fixed Address,
DADAA x St. Pats Community Support Centre / Fremantle
2019
Error De Disco
, [collaboration of installation & performance] Rhythm Machine, Summerhall / Edinburgh
2018
The Green Room
, [video] Dornoch Street Space / Glasgow
2018
One Day to Play
[video and performance with Claricia Parinussa] The Civic House / Glasgow
2018
Artists who make music, Musicians who make art,
Queens Park Railway Club / Glasgow
2017
YOUR CONTENT IS HERE
, Greencube.gallery / The Wrong / New Digital Art Biennale / Online
2017
Collective Care
, [with Kate Davis] More Art Public Art Show / Melbourne
2017
Noel Counihan Commemorative Award,
Counihan Gallery Brunswick / Melbourne
2017
Sound Thought
[with Murray Collier], Centre for Contemporary Arts / Glasgow
2017
Tate x NTS x Uniqlo
, [Pussy Mothers performance] with live visuals by Wolfgang Tillmans, Tate Modern / London
2016
Parallel Dimensions
, Laurieston Arches / Glasgow
2016
Hand Luggage
, Steambox, Dublin, Ireland
2016
Toget-herr,
The Old Hairdressers / Glasgow
2016
This Is Now: Film and Video After Punk
[commissioned performance] Glasgow Film Festival, Tramway / Glasgow
2016
Excuse me boys, where do you think you're going?
[video installation] / Easterhouse
2015
MIDI Festival
, installation commission at Villa Noailles / Hyeres, France
2015
Vile Bodies
, curated by DR.ME, Manchester Art Gallery / Manchester
2013
Happy Accidents
[part of Mike Perry, Wondering Around Wandering] / New York, US
2012
Deadset
, Dear Patti Smith Gallery as part of The Independent Photography Festival / Melbourne
SELECTED WORKSHOPS, CURATORIAL PRACTICES AND FACILITATION
2021
Film Programmer,
Dardishi / Glasgow
2019
Lead Arts Facilitator
, Impact Arts / North Ayrshire
2019
Artistic Director and Co-Producer
, PEAKS at Paper Mountain ARI for FRINGE WORLD / Perth
2017-19
Artist in Residence
Creative Challenge, Awesome Arts in Rural and Regional Schools across Western Australia
- Leonora District High School [Arts/Facilitator in Residence] / Goldfields
- East Kalgoorlie Primary School [Arts/Facilitator in Residence] / Goldfields
- Djidi Djidi Aboriginal School [Arts/Facilitator in Residence] / Bunbury
- Bungaree Primary School [Arts/Facilitator in Residence] / Rockingham
2017
Co-creator and facilitator,
Collective Care, More Art / Melbourne
2014-16
Founder, Co-Curator and Co-ordinator
Gallery Unit & Unit A.R.I,The Savoy Centre / Glasgow
2014 Project Leader, Art Department, Maxwelltown High School / Dumfries
2014
Co-Curator,
SEA IN RED / 695 Gallery, Queens Cross Housing Association / Glasgow
2014
Contemporary Art Tutor,
Barlinnie HMP Prison / Glasgow
2010
Co-Curator,
No Culture Icons Australia in conjunction with FotoFreo Festival / Fremantle
PRINT AND PUBLISHED MATTER
2021
How to Lift Heavy
/ contributor / Open School East
2020
The Paper
/ contributor / Good Press
2019
VHS Tracking Zine
/ Review & Artwork / Perth
2019
WEAPONISE YOUR SOUND
, LP Vinyl, Independent Womens Day curated by Kristina McCormack / Optimo Music
2017
Newsletter: Volume II: a collaborative archive of idea fragment
, contributor / Los Angeles Contemporary Archive
2016
Pussy Mothers
, The Number 1 EP, 12in Vinyl / Optimo Music
2016
Beg, Borrow and Steal
collaboration with Rachael Simpson / Self Published
2015
ET DIEU CREA LA FEMME
edited by Tine Bek / Good Press
2015
Kill them with Kindness
collaboration with Rachael Simpson / Self Published
2014
Bogans of Death,
Menage a Trois, Cassette Tape Artwork / Manchester
2014
Oasis
/ Bloom Publishing
2012
Deadset
published by Independent Photography Festival / Bloom Publishing
RESIDENCIES
Upcoming 'In conversation' with Shamica Ruddock at CCA / Glasgow
2018
Subiaco Theatre Festival
x Perth Theatre Trust / Subiaco
2017
Perth International Arts Festival
Artist Lab as part of 2017's festival with Artistic Director Wendy Martin / Perth
2016
One-Shot Collaboration Sacrifice (TV Special): AFFECT Residency with Kinderhook & Caracas CONGLOMERATE.TV
(Sol Calero, Dafna Maimon, Ethan Chute-Hayes, Derek Howard and Christopher Kline), Agora Collective / Berlin
AWARDED GRANTS
2021 Arts Council England, Develop Your Creative Practice
2021 Sound and Music, Composer Grant
2020/21 Ian Potter Cultural Foundation
2020 Western Australia's Department of Local Govenment Sport and Cultural Industries
2017 QRG Regional
PRESS
The National Scotland, - 'Cosmic Duo [...] play fundraiser for Ghana Studio project'
Financial Times - 'Breadth and Depth, Glasgow International'
Intern Magazine - Beyond Bridges