Flesh & Bone, Sophia Natale, Paper Mountain for Peaks 2019. Photograph: Danica Zuks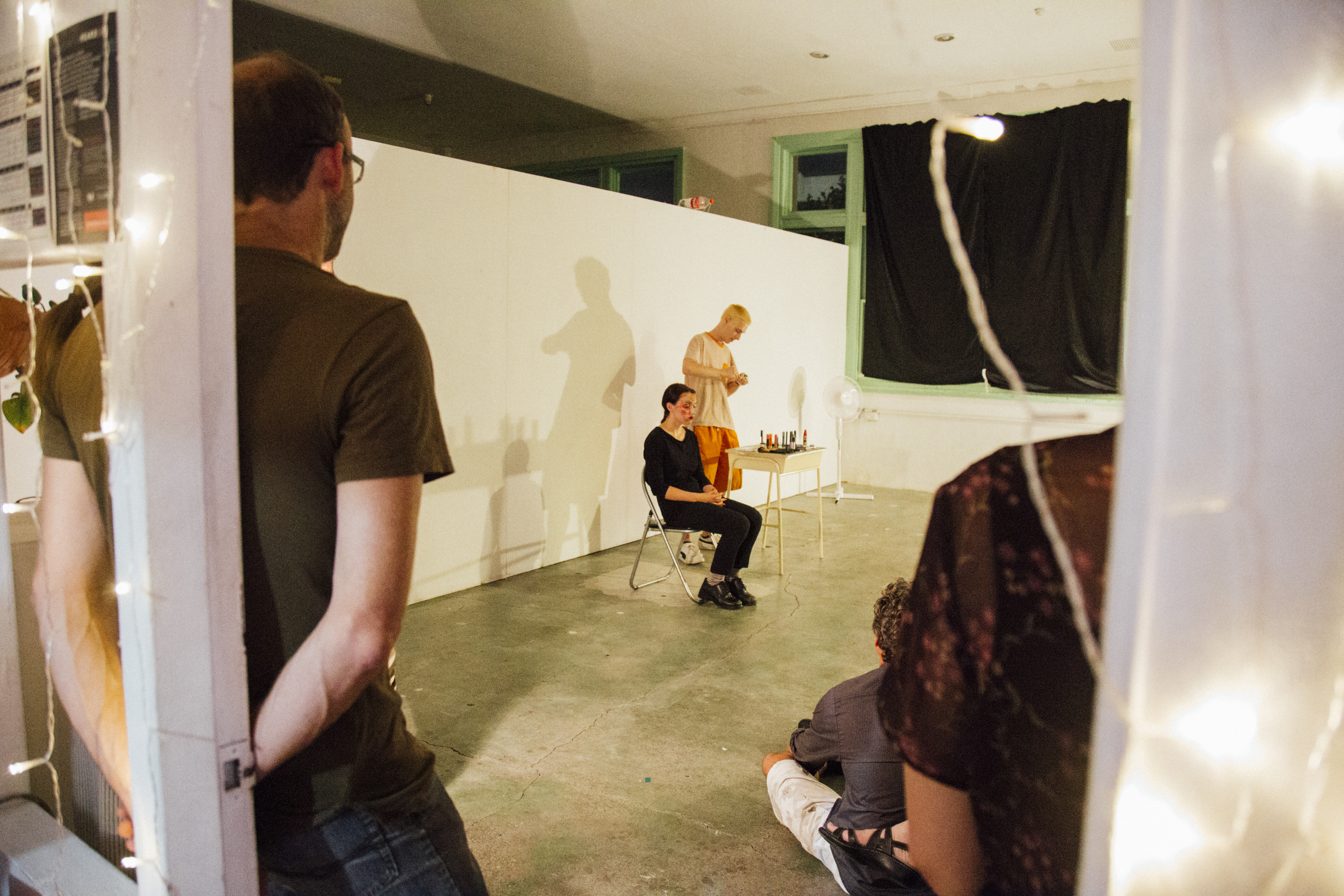 PEAKS 2019
Paper Mountain ARI x FRINGE WORLD FESTIVAL

Winner of the Independant Program

Artistic Director & Co-Producer
PEAKS is a curated program of visual art, performance and moving image taking place across several venues in the Perth, Western Australia's CBD - Paper Mountain, City Arts Space and Perth Cultural Centre Screen.
PEAKS is initiated by Paper Mountain, a Perth based artist run initiative with a gallery, event space and studios, located in the heart of Northbridge. The 2019 edition of PEAKS is co-produced by Kelsey Douglas, Steven Finch, Pia Fruin and Hannan Jones.
Paper Mountain and PEAKS exists and take place on Whadjuk Nyoongar country. We pay our respects to elders past, present and future, and acknowledge that we are on stolen land. Sovereignty was never ceded. Paper Mountain stand with First Nations people in their fight for self‐determination.
Offering a celebration of compelling, risky and loud approaches to visual art and performance for FRINGE WORLD FESTIVAL, PEAKS 2019 is a female forward line-up of new and existing works that have been curated to reflect and enhance the conversations concepts and peaks of today's society. Confronting the present whilst reflecting on community and togetherness through a panoramic range of innovative and playful art forms brought together by local, national and international artists from all stages of their practices, providing insight into all-embracing disciplines within the arts.
Hosted on the Perth Cultural Centre Screen and in collaboration with Perth Centre for Photography, Embassy Gallery (an artist-run initiative international curatorial exchange) and Paper Mountain studio holders is
Rolling Peaks.
Every day throughout Festival, Rolling Peaks presented a series of montages of contemporary and archival exhibitions, finding the moments at which the archives speak to the present, and evoking a feeling of many moments and many histories present.
PEAKS also makes room for serendipity through '
Endless Answers'
, a ballot-drawn selection of performances and exhibitions. Welcoming platform for experimentation, fostering a positive creative community, and challenging the status quo – from an intimate party under a giant skirt to an empowering portrait series of women and non-binary people of colour. PEAKS opens up discussion, welcomes spectatorship and encourages immersion.
Sponsored by City of Perth, DLGSC Culture and the Arts, WA and RTR FM 92.1.
PDF of
Digital Booklet
available.
Image left to right, top to bottom: 1.
The colour of earth
, photographic exhibition by Tasha Tong, Paper Mountain Gallery Photographed by Nicolee Fox. 2. Ray Tat,
Rolling Peaks
, Perth Cultural Screen. 3.
My Account of Being Nowhere
, Luoyi Tan, (SG), City Arts Space. Photograph by Danica Zuks. 4. PEAKS 2019 events publication. 5.
The Divine Feminine,
exhibition by Sarah Sim, City Arts Space.
Winner of the Fringe World Film & Multimedia Award 2019
. 6. Embassy Gallery, Edinburgh, workshop documentation, an exchange between Artist Run Initatives 7.
Endless Answers
, Chloe Nolan, performance at Paper Mountain. Photograph by Danica Zuks. 8. Tasha Tong and Zal Kanga, artist talk for
The colour of earth
, Paper Mountain. 9.
My Account of Being Nowhere
, Luoyi Tan, artist talk, City Arts Space. 11. Rolling Peaks, title screen, Perth Cultural Centre Screen.